Agricultural Production
One of the Euroeste group's main activities is the agricultural production of irrigation cereals and vegetables.
Intensive agricultural production is undertaken by Euroeste in Portugal, by farming 800 irrigated hectares, equipped with irrigation pivots, monitored at a distance. In Angola, Euroeste explores an area of 5,500 hectares of agricultural land, 4,000 hectares of which are on a yearly basis used for the cultivation of cereals. In Brazil, the area used for agricultural production is 4.000 hectares.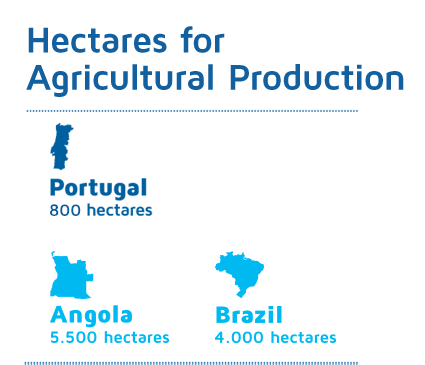 By investing in production diversification and by using the best technology available, the Euroeste group's intention is to revitalise the agricultural sector, by guaranteeing maximum quality and productivity in the production of cereals and vegetables.
Among the cereals produced every year by Euroeste, are:
The wide variety of fresh vegetables includes:
Potatoes
Carrots
Cabbage
Broccoli
The agricultural production of the Euroeste group has three outlets:
Distribution channels for the end consumer
The Euroeste group has important partnerships for agricultural production, adding to the areas for their own production leased land and integration systems.